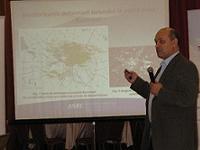 The 3rd Edition of the International Workshop "Promoting CCS in Romania" took place in Romania, Craiova, Dolj County, on 22-23 March, 2012.
TERRASIGNA (former ASRC) was one of the sponsors of this event, organized by the Romanian "CO2 Club" Association, together with CO2GeoNet – France, CGS Europe, pan-European scientific body on CO2 geological storage, the National Research Institute of Marine Geology and Geo-Ecology – GeoEcoMar and the Institute for Studies and Power Engineering – ISPE.
The Club CO2 International Conference main goal was to frame the progress made by Romania in deploying CCS technology, to share lessons learned and create the appropriate environment for know-how transfer from countries with significant CCS history.
Using its expertise in environmental monitoring, TERRASIGNA has made a presentation on "Monitoring the surface of CO2 geological storage locations using Radar Interferometry". The presentation included preliminary results under the form of a radar inteferogram of the Targu-Jiu area that is extremely close to the area where the GETICA CCS pilot project will be implemented.
By means of the Interferometric Synthetic Aperture Radar (InSAR) and Persistent Scatterers Interferometry (PSI) techniques based on the Spaceborne Synthetic Aperture Radar (SAR) technology, TERRASIGNA can provide monitoring solutions for:
- infrastructure development;
- natural hazards;
- environment in general;
- oil and gas extraction, mining and insurance.
For more information, please contact us.
Go to: Monitorizarea la suprafata a locatiilor de stocare geologica a CO2 prin Interferometria Radar