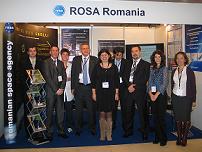 The 61st International Astronautical Congress was held in Prague, Czech Republic between 27th of September and 1st of October 2010. The focal theme chosen by the Czech Space Office for this edition of the Congress was "Space for Human Benefit and Exploration".
The event consisted in Technical Sessions (28 symposiums), Exhibition Space (246 sq.m.) and the 2nd International Cluster Forum (4 days presentations hosted within the exhibition area).
TERRASIGNA (former ASRC) represented Romania at the Congress's exhibition together with the Romanian Space Agency's (ROSA) and Institute for Space Sciences (ISS).
The TERRASIGNA's posters presented: its areas of expertise, the educational software LEOWorks and Interactive Meteosat (developed by the company under the European Space Agency's umbrella within PECS) and some applications of the Interferometric Synthetic Aperture Radar (InSAR) Technique.
TERRASIGNA also introduced to professionals and public the results obtained in different projects with InSAR technique (Natural Hazards Monitoring in Siriu, Urban Infrastructure Monitoring in Bucharest, and Environment Monitoring in Danube Delta).
Furthermore, some of the case studies developed with Digital Image Analysis Platform for geo-spatial applications (ASRC DIAP) were offered as animations: Urban Growth Monitoring Using Satellite Imagery – Bucharest City, Fluctuation of the Water Extent Extracted from LANDSAT Imagery – Delta Dunarii and Deforestation Monitoring Using Remote Sensing – Carpathians Mountains.
For more information, please contact us.
Educational tools for learning Earth Observation (pdf)
Deformation Maps Using Spaceborne Interferometric Synthetic Aperture Radar (InSAR) (pdf)