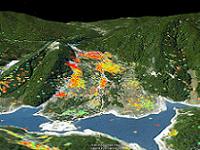 TERRASIGNA's (former ASRC) experts were invited to take part in the scientific sessions of the Annual Conference of the Romanian Geological Society planned for 5th of November 2010. After general presentations, the program was organised in 3 scientific sessions, poster and drawings sessions.
TERRASIGNA's presentation on "Landslide Monitoring Using SAR Interferometry" opened "Natural and Anthropical Hazard Session" of the conference.
For more information, please contact us.