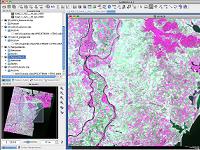 The workshop organized within the eLPIS project (eLearning Platform for Land-Parcel Identification System within the National Plan for Research, Development and Innovation) on 18th of November 2011 focused on presenting the projects results, meaning the development of an eLearning platform for specialists in integrated management and control information systems (IACS) in agricultural and related fields (such as experts of the Agency for Payments and Intervention for Agriculture).
TERRASIGNA (former ASRC) made a presentation of the LEOWorks software as support application for SIVGIS. LEOWorks is image processing/Geographic Information System (GIS) software for educational purposes developed by TERRASIGNA within the European Space Agency's Plan for European Cooperating State. The compatibility between the two applications was given by the fact that SIVGIS is also an application of GIS advanced editing with functions specialized for the workflows and management activities relating to the operation of local data.
For more details, please contact us.