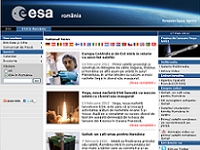 As member state of ESA, Romania has its dedicated place on the ESA portal. The news related to our country's activities within the European Space Agency (ESA) are now announced and distributed to the Romanian public in native language.
At the beginning of 2012, the messages related to the launch of the first Romanian satellite - Goliat - with ESA's vehicle Vega travelled around the world.
As part of the ESA Education programme, cubesat Goliat carried experiments for scientific measurements and Earth Observation. This experience marks a historic moment in the Romanian aerospace tradition, within the framework of the recent ratified law on Romania's Accession Agreement to the European Space Agency.
For more information, please contact us.