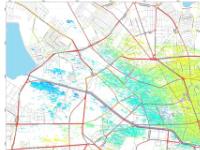 TERRASIGNA (former ASRC) participated to the European Geosciences Union (EGU) General Assembly 2010, which took place in Vienna, betwee 2-7 May 2010.
The EGU General Assembly 2010 reunited geoscientists from all over the world. The event covered all disciplines of the Earth, Planetary and Space Sciences. Young scientists that participated to EGU had the opportunity to present their work and exchange ideas with experts in all fields of geosciences.
During its sessions, TERRASIGNA presented the poster "Monitoring Geomorphologic Changes and Ground Instability using SAR Interferometric Techniques". It included the following subjects: the ground deformation map using DInSAR for Bucharest area and its correlation with the Karlsruhe Institute of Technology maps on depth of groundwater level and liquefaction potential index for the same are; the ground deformation map using DInSAR for Siriu water dam and its surroundings.
For more information, please contact us.
Monitoring Geomorphologic Changes and Ground Instability using SAR Interferometric Techniques (poster)