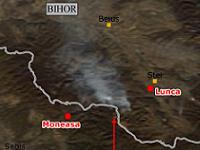 Many natural areas can be or have been affected by wildfires that tend to spread at alarming rates, causing enormous economic and possible life losses, especially if the affected area is a forested one. Such a situation can easily become a natural disaster if immediate action is not taken.
In Romania, more that 100 natural fires were identified at the beginning of November 2011 and a great amount of efforts was requested on behalf of local and regional fire stations, military bases, foresters and volunteers in order to prevent disasters.
As provider of monitoring services, TERRASIGNA (former ASRC) has a wide experience in satellite images processing and can deliver to decision makers customized solutions for fire affected areas, such as the ones prepared in 2011 for the following sites: Moneasa forest, Bihor County and Ohaba-Ponor forest, Hunedoara County. TERRASIGNA has created these maps using data from MODIS Rapid Response Team.
Remote sensing techniques, combined with GIS knowledge, are able to provide an important support for this kind of crisis management. Satellite images processing techniques offer the possibility for:
fire identification in the area of interest;
determine other necessary parameters, such as: spatial extent of the fire, the main spreading directions, possible inhabited areas that might be affected, other outbreak points.
Considering the risks involved, is crucial that the fires are constantly monitored in order to help decision making factors to be able to act in order to effectively manage such a situation. Ground observation is a very important source of information, but very often this is not enough (nor accessible) in order to correctly asses the magnitude and the spatial extent of fires.
For more details, please contact us.
Satellite Wildfire Identification in Moneasa forest, Bihor county (jpg)
Satellite Wildfire Identification in Ohaba-Ponor forest, Hunedoara county (jpg)