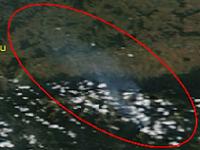 As the temperatures for summer of 2012 were extremely high, the effects on the vegetation were major. The drought affected agriculture, but also the forests.
630 hectars were affected by fires in the Fagaras Mountains during the last decade of July 2012. Dry vegetation, seedling plantation, coniferous forest and forestry shearings were in a blaze.
In order to evaluate the evolution of the fires, authorities could use EO data. For this specific purpose, low spatial resolution imagery with good global coverage (on a daily basis) is proper for rapid mapping regarding the localization and magnitude assessment of the event. For a better delineation of the affected area, high resolution scenes used in a non-rush mode, after the event are mode adequate.
TERRASIGNA (former ASRC) experts looked for the fires on several Modis scenes depicted from Aqua and Terra satellites. Even the sky was cloudy that period and the view on the exact location of the fires was blocked, important information regarding the smoke trail (dimension, direction) can be extract.
As provider of monitoring services, TERRASIGNA has a wide experience in satellite images processing and can deliver to decision makers customized solutions for fire affected areas. TERRASIGNA has created these maps using data from MODIS Rapid Response System.
For more information, please contact us.
Modis Aqua scene, 25th of July 2012 (jpg)