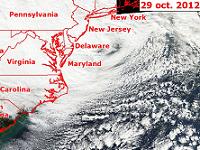 Tropical Storm Sandy, the 18th tropical storm of the 2012 Atlantic Hurricane Season was tracked by GOES East satellite. The hurricane went constantly towards the North, Northeast hitting Bahamas, Cuba, Jamaica, Puerto Rico, the Dominican Republic, and Haiti on its way. After moving parallel to the East Coast of U.S. for a while, it turned to Northwest into the coastline of Delaware, New Jersey, or New York. It generated significant damages and the unleashed natural forces could overrun Hurricane Irene in length and power, according to the specialists quoted by The Wall Street Journal.
Due to the major impact on environment as well as on people's lives, hurricane Sandy is carefully watched from space. Satellite imagery products are used by the decision makers in order to prevent or minimise disaster.
Based on its experience in monitoring natural or man-made disaster, TERRASIGNA (former ASRC) experts have created several maps using data from MODIS Rapid Response Team with scenes captured by Terra and Aqua satellites between 25th and 29th of October 2012. The respective maps are presented as animation, illustrating the evolution and the dynamic of the terrible hurricane Sandy.
See the animation: Hurricane Sandy's Evolution
The landfall of the post-tropical cyclone Sandy on 29th of October 2012 near Atlantic City can be viewed in another animation made by TERRASIGNA experts based on images captured by GOES satellites.
See the animation: Post-Tropical Cyclone Sandy's Landfall
The services provided by TERRASIGNA are designed to offer information support for crisis management by delivering rapid mapping products showing the extent and impact of the event.
For more information, please contact us.