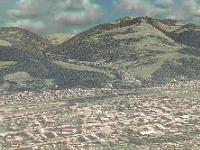 geo-spatial.org, OSGeo Romania and Bucharest University - Faculty of Geography organised the 5th edition of the "Open Source Solutions for Geospatial Data Processing and Representation" seminar in Bucharest on 7-8 October 2011.
The event is dedicated to presenting the benefits of the open and free geospatial technologies (as free and open source software).
The oral presentations and practical seminars will address to the following topics:
Geospatial data analysis and control;
3D exploration of the geographical reality;
3D models creation out of 2D images;
Development of WEBGIS applications using standard services and formats
TERRASIGNA (former ASRC) had participated in the seminar with a presentation on the Geospace project. This project aimed to develop and upgrade Geography secondary and high school teachers' competencies by providing modern training modules through interactive teaching and learning methods, using open source educational software for Geomatics. The software applications were developed and adjusted by the TERRASIGNA experts. The training programme had been delivered by the Geomatics Center for Complementary Training of Geography Teachers set up within Babes-Bolyai University from Cluj-Napoca.
For more details, please contact us.