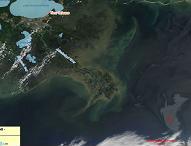 A massive oil spill started in the Gulf of Mexico on April 20, 2010. The spill occurred after an explosion on the Deepwater Horizon offshore drilling rig, operating off the Louisiana coast.
The oil spill has an area of approximate 6,500 km2 according to estimates reported on May 3, 2010. It is considered to be an environmental disaster that will have a negative impact on the fishing industry, tourism industry and the wild life.
TERRASIGNA (former ASRC) has created several maps using data from MODIS Rapid Response Team that illustrate how the oil spill has evolved since April 20, 2010. The main objective is to deliver added-value information products using GIS and MODIS data.
It is an example of service in case of disasters that TERRASIGNA can provide. The service is designed to offer information support for crisis management by delivering rapid mapping products showing the extent and impact of the event.
The maps created by TERRASIGNA are available as animation, showing the dynamics of the oil spill spreading.
Oil Spill in the Gulf of Mexico (animation)
For more information, please contact us.