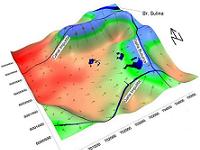 A round table "Optimal Integration of the CCS Technology" was organised on 22nd of November 2012 by the Institute for Studies and Power Engineering (ISPE) and the National Institute for Research and Development of Marine Geology and Geoecology (GeoEcoMar), under the auspices of the Ministry of Economy, Trade and Business Environment (METBE). The event was part of the "National Programme for CO2 Capture and Storage – 2020 horizon" financed by METBE.
TERRASIGNA (former ASRC) was invited to have a presentation on "Surface monitoring of the geological storage locations by using Radar Interferometry" within the technical session "CO2 capture, transport and storage monitoring". The presentation focused on the benefits of satellite imagery as well as practical applications of the radar interferometry techniques in different projects related to carbon capture and storage.
TERRASIGNA has extensive experience with InSAR techniques for ground deformation monitoring, being the only Romanian company with valued competencies in automatic processing and extraction of information from satellite imagery (both radar and optic) and any other type of remote sensing data.
Services focusing on ground stability, slopes' stability that have been provided to different clients by the TERRASIGNA team of experts make use of advanced monitoring techniques that are also applicable to the field of CCS monitoring.
Given its expertise and the real concern for a safer environment, TERRASIGNA is able to be instrumental to the CCS issue. In this respect, TERRASIGNA is an active member of CO2 Club Romania, a professional association whose aim is to carry out specific activities for reducing CO2 emissions in the atmosphere by CCS.
TERRASIGNA also supported the Getica CCS governmental demonstration project located in Oltenia region and took active part in workshops organised by the project consortium.
For more information, please contact us.