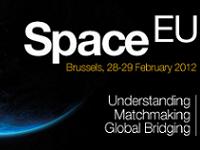 SpaceEU aimed at space practitioners, helping them to understand the opportunities in this developing space landscape, and to take advantage of them. It addressed both established operators and potential new entrants, with a particular focus on SMEs.
SpaceEU offered TERRASIGNA (former ASRC) the opportunity to look for potential co-operation partners, participating in:
Matchmaking sessions - short presentation of the TERRASIGNA's capacities;
Bilateral face-to-face meetings in Brokerage Sessions.
TERRASIGNA has expertise in Earth Observation Applications and Services, so that targeted partners at this event were:
Organizations with complementary expertise;
Research institutes, universities, industry, potential end-users;
Member states of ESA/EU (including Associated Countries, International Cooperation Partner Country).
For more information, please contact us.