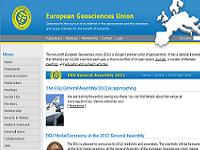 It is already a tradition among TERRASIGNA's (former ASRC) scientists to participate in the European Geosciences Union (EGU), General Assembly. The event took place place in Vienna, Austria between 22nd and 27th of April 2012.
The EGU General Assembly 2012 brought together geoscientists from all over the world into one meeting covering all disciplines of the Earth, Planetary and Space Sciences.
The scientific programme of the General Assembly 2012 included Union Symposia, Interdivision Sessions, Educational and Outreach Symposia, as well as oral and poster sessions on disciplinary and interdisciplinary topics covering the full spectrum of the geosciences and the space and planetary sciences.
The TERRASIGNA presentation "Water induced geohazards measured with spaceborne interferometry techniques" was held within the session "Crustal faulting and deformation processes observed by InSAR, GPS and modelling techniques" programmed on 24th of April 2012.
Discussions took place between TERRASIGNA scientists and the General Secretary of EGU Mioara Mandea to identify opportunities for a more active EGU support for the Romanian players in the Geosciences field. Several remote sensing applications in different areas in Romania, such as: Targu-Jiu, Danube Delta, Ocnele Mari, Black Sea shore, Siriu Water Dam, Bucharest were presented in order to illustrate expertise and experiences in this domain.
For more information, please contact us.