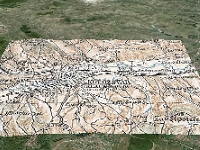 The European Association of Teachers (AEDE), founded in Paris in 1956, is an organisation promoting understanding of EU issues amongst educators in all member states.
The 17th Congress of the AEDE was held in Romania under the high patronage of the Presidential insitution of the Republic of Romania.
The events went off under the theme "L'Europe et les defis du troisieme millenaire - Le développement humain dans une société multiculturelle" started in Bucharest on 13th of May 2011 at the Romanian Parliament Palace and continued on 14th and 15th at the Ovidius University in Constanta.
At the official opening participated representatives of the Romanian Parliament, Ministry of Education, Research, Youth and Sports, as well as representatives of the European Council - Directorate for Education, Culture and Heritage, Youth and Sport and officials of the AEDE.
During work sessions, TERRASIGNA (former ASRC) brought out to the public's attention the reading "Free and Open Source Software for Teaching Geography in Upper Level Secondary Schools". It emphasized the importance of the open source educational software for Geomatics as interactive teaching and learning methods in Geography subject.
For more information, please contact us.