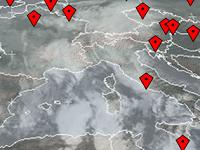 TERRASIGNA (former ASRC) is developing an educational application - Interactive Meteosat (IM), for the Eduspace website of the European Space Agency (ESA).
IM is a web-based interactive application for the teaching of satellite meteorology in secondary schools. It forms a part of the IM case study on the Eduspace website, which teaches students to record meteorological observations to be uploaded to the IM application.
Using appropriate symbols, the observations can be displayed, queried and analyzed on daily Meteosat weather satellite images and synoptic weather maps, thereby enabling a more detailed interpretation of the satellite images.
IM application can be accessed and its functionalities tested:
displaying imagery from Meteosat weather satellite using a Map Viewer and a Geostationary Viewer;
zooming;
panning;
introducing quantitative geotagged data (current conditions, wind direction, wind speed, cloud cover, elevation and temperature).
Using the IM application users can compare their meteorological observations with what they see on the Meteosat satellite image, and with other observations submitted throughout Europe.
It is an interactive tool, user friendly for students and teachers across Europe.
The software is built entirely with standard compliant free and open source software applications like OpenLayers, GeoServer and GDAL.
The application is available on our website. Further functionalities will be added.
For more information about IM, please contact us.
Go to: Interactive Meteosat: ESA Educational Software for Meteorological Applications