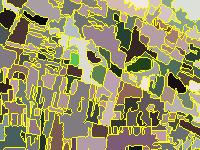 TERRASIGNA (former ASRC) was present at the European Space Agency (ESA) Living Planet Symposium 2010 held in Bergen, Norway from 28th June to 2nd July 2010, organised with the support of the Norwegian Space Centre.
The objective of the Living Planet Symposium was to present the results of the ESA Earth Observation missions in exploitation by:
Providing a forum for investigators to present results of on-going research project activities using ENVISAT, ERS, GOCE, SMOS, CRYOSAT and ESA Third Party Missions data;
Presenting the development of applications and services including the Global Monitoring for Environment and Security;
Presenting the ESA Climate Change Initiative.
TERRASIGNA exhibited two posters on this event.
The poster "Monitoring Geomorphologic Changes and Ground Instability using SAR Interferometric Techniques" was introduced in the "Hazards assessment & mapping" session.
It addressed the following subjects: the ground deformation map using DInSAR for Bucharest area and its correlation with the Karlsruhe Institute of Technology maps on depth of groundwater level and liquefaction potential index for the same area; the ground deformation map using DInSAR for Siriu water dam and its surroundings.
The poster "Support for Automation of Cartography Based on Earth Observation Images – a Data Mining Approach" was introduced in the "Land Cover & Land Use" session.
It comprised details of the solutions developed by TERRASIGNA for Data Mining methodology: object oriented processing and tile based processing, as well as applications field envisaged.
For more information, please contact us.
Monitoring Geomorphologic Changes and Ground Instability using SAR Interferometric Techniques (poster)
Support for Automation of Cartography Based on Earth Observation Images – a Data Mining Approach (poster)