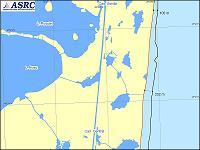 The Black Sea shore is a very sensitive area for monitoring, especially in its Northern part, adjacent to Danube Delta. The human activity as well as the natural factors (storms, marine currents etc.) leads to significant changes of the seashore line during the years. These changes were and still are very hard to estimate due to lack of consistent ground data.
Due to Remote Sensing techniques, "snapshots" of the seashore line for every year or even every season can be obtained. This information is very useful for studying the environmental impact of the seashore dynamics.

Such study performed by TERRASIGNA (former ASRC) had used LANDSAT TM images - credit US Geological Survey.
For more details regarding the Black Sea shore dynamics inside the time span envisaged within the study or for estimating change detection in different parts of the shore, please contact us.