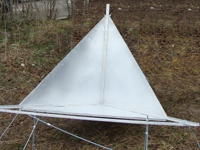 At the end of February 2011, a team of TERRASIGNA (former ASRC) experts has installed a custom made corner reflector at the GEOECOMAR's premises in Contanta (Romania). A radar corner reflector is a metallic device with highly reflective properties that increases the amount of electromagnetic energy normally returned to the radar.
Due to the proper shape and material, the corner reflector provides deformation measurements with millimetre accuracy with a high level of confidence using InSAR (Interferometric Synthetic Aperture Radar) technology.
The reflector was oriented towards the direction of radar pulses emitted from the orbiting TerraSAR-X, Radarsat-2 and ALOS Palsar satellites. A first test acquisition was programmed for 5th of March 2011.
This operation represents a new step in a long-term TERRASIGNA project for "Danube Delta monitoring using InSAR technology".
For more details, please contact us.